"He was washing his hands"
Once, many years ago, one of my very dear friends said to me, "I wish I could be as obsessed by something as you are with baseball." Regardless of how it was meant, I took it as a compliment. And now, finally, I have found someone who feels the same way about something. And that someone is another dear friend of mine, Anne, and that something is ... stalking hockey players.
One of the goalies for the local hockey team was having an autograph session at a local taco establishment. We decided to go. And also to eat tacos and drink tequila. Anyway, as it often is, it was me and Anne and the three kids. She had brought lots of things (for Will) to get autographed, and she had two extra posters for Patrick and Audrey to take up there. Audrey, of course, refused to go anywhere near the table. She has still not recovered from the First Goal program. So the boys went up, got their stuff signed, posed for pictures. I handed my phone to Patrick and asked him to take a picture of me and Anne and Edd!e and so he took about 17 terrible ones. We thanked Edd!e and went back to our seats.
Anne said that maybe when the line had died down we could go back up and have an adult take our picture. So we did that. Then, Anne mentioned to Audrey that if she'd go up and pose for a picture, Anne would buy her an ice cream. Audrey refused. But Will heard the magic words "ice cream." So Will and Patrick went back up to chat with Edd!e. Patrick asked him if being a goalie was hard. ("Sometimes yes and sometimes no so much.") Will asked him if he'd come over to the table and see Audrey. Audrey heard this and looked stricken. I reassured her that he wouldn't come over.
Then Edd!e got up to go to the bathroom. Suddenly Will disappeared. And then reappeared. And announced, "He's coming to our table."
Lo and behold, Edd!e emerged from the bathroom and came over to the table to pose for a picture. Audrey was mortified and buried her head in my shoulder. Anne grabbed her phone to take a picture and motioned the boys over. "Ahh, a family picture," said Edd!e, who is totally awesome and grinned and posed for the picture. He then went back to his chips and beer and autographs and we left.
In the car on the way home, we had the following discussion.
Anne: Will, did you follow Edd!e into the bathroom?
Will: ...no.
Anne: You won't be in trouble, we just want to know.
Will: No, I didn't! I didn't follow him into the bathroom.
Anne: Are you sure?
Will: ...yes?
Me: Was he peeing?
Will: No! He was just washing his hands! ... Okay, I followed him into the bathroom.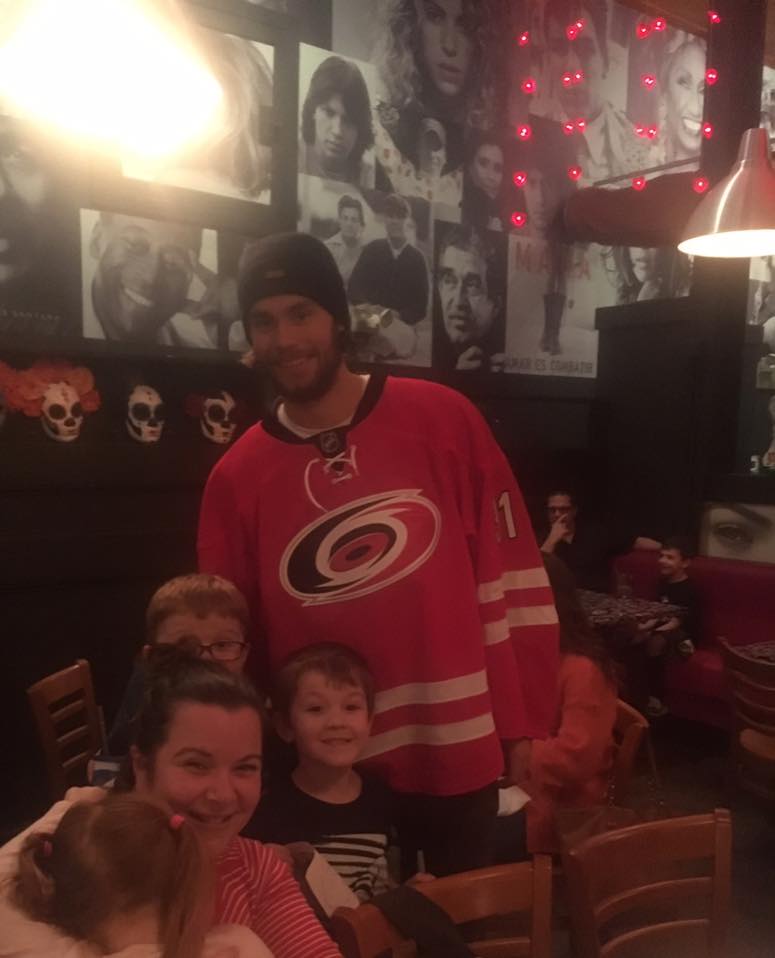 Posted by Molly at 8:06 PM EST
Updated: Thu 02/09/2017 8:10 PM EST