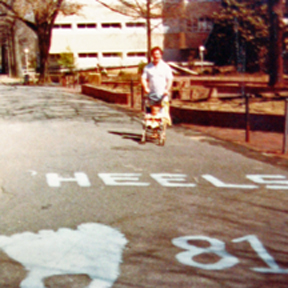 Molly was born in April 1980 and raised in Durham, NC, but she was raised right: as a Tar Heel. She was even baptized on the campus of the University of North Carolina.
Molly began attending baseball games at the Durham Athletic Park in the late 1980s, shortly after her only sibling, brother Kevin, was born in 1986. Her obsession with baseball began in 1991, when she attended a Braves game at Atlanta-Fulton County Stadium. And Tom Glavine was pitching. Molly was hooked.
Following her destiny (obviously), Molly enrolled at the University of North Carolina at Chapel Hill in 1997 and began a course of study in journalism. After her sophomore year, she worked for a summer at the now-"historic" Durham Athletic Park, where the lineup from the final game in 1994 was still written on the chalkboard in the pressbox. After college, Molly worked in media relations for the Houston Astros (who would never give her a permanent job, bastards) and later the Memphis Redbirds. Molly is not currently working in baseball. She misses it.
Molly eloped to Las Vegas in May 2007 but was not married by Elvis. She and her husband, James, have two kids: Patrick, born 12/20/08, and Audrey, born 6/25/12.
Molly would still watch baseball all the time, if only she had the time. She has forgiven the Braves for botching the Tom Glavine (HOF!) situation since they retired his number. She was a Carolina Hurricanes fan up until they traded Mike Commodore. She's working on getting over that. You can now find her cheering for the Penguins and Steelers. Molly may wish to move to Pittsburgh some day.
Molly likes: holding grudges, pumpkin butter, expensive coffee drinks, Sidney Crosby, LeBron James (inexplicably), quality over quantity, dark chocolate, "Grey's Anatomy," country music, and the fist bump.
Molly hates: Memphis, mushrooms, Barry Bonds*, blue/bleu cheese, dieting, and the dentist.
* - well, you know why that's there.